Committing to Confidence
Curvy Couture's experts share bridal lingerie tips for your whole wedding experience
" As I always say, confidence is the sexiest thing you can wear "
- Dora Lau
Becoming a bride is exciting, exhilarating, and honestly, can sometimes be a bit frustrating, especially when searching for that perfect gown. Believe it or not, finding the perfect plus-size bra can be the make or break factor in getting you the look you want from your engagement and bachelorette parties to the wedding ceremony and honeymoon.  
"As I always say, confidence is the sexiest thing you can wear," says Dora Lau, founder of Curvy Couture. "Before you go shopping for your dream dress, make sure you have a bra that fits well and offers the functionality that you need. A bra is the ultimate first layer that offers support, shape and confidence. No bride, the center of attention, wants to be adjusting or looking uncomfortable. You just want to look and feel amazing."
SELECT A FEW BRA STYLES AND THEN GO DRESS SHOPPING
You've pinned lots of photos, ripped out pages of magazines, and now have a pretty good idea about the type of dress you want to wear on your wedding day. Pay attention to the construction of your dress and how you want to look in it. Do you need a push-up bra to fill out the neckline or something that is full coverage? Is the dress a silky a-line that would show lacey lingerie? If you go dress shopping with 2-3 bras, you will avoid getting fitted and altered with the bra that you will not be wearing on your wedding day. Sexy lingerie can still be functional so don't compromise! Remember, once the dress is altered, it cannot be changed.
SAY I DO TO SOMETHING STRAPLESS
Curvy brides don't have to compromise their dreams of an off the shoulder or strapless wedding gown because of a bra. If you select a strapless dress style, it is highly likely that a lot of time and effort have been spent to get the perfect fit. Make sure you select a strapless bra that fits properly and won't slip. Curvy Couture's award-winning multi-way strapless is specially engineered to stay in place on any body. A sensational lift-loving shape is created with smooth cups that offer maximum versatility along with a push up contoured cups. This strapless will be your partner in looking great, past your wedding day, as there are seven ways to wear: strapless, halter, center halter, cross front, cross-back, classic or one-strap; includes clear and regular straps.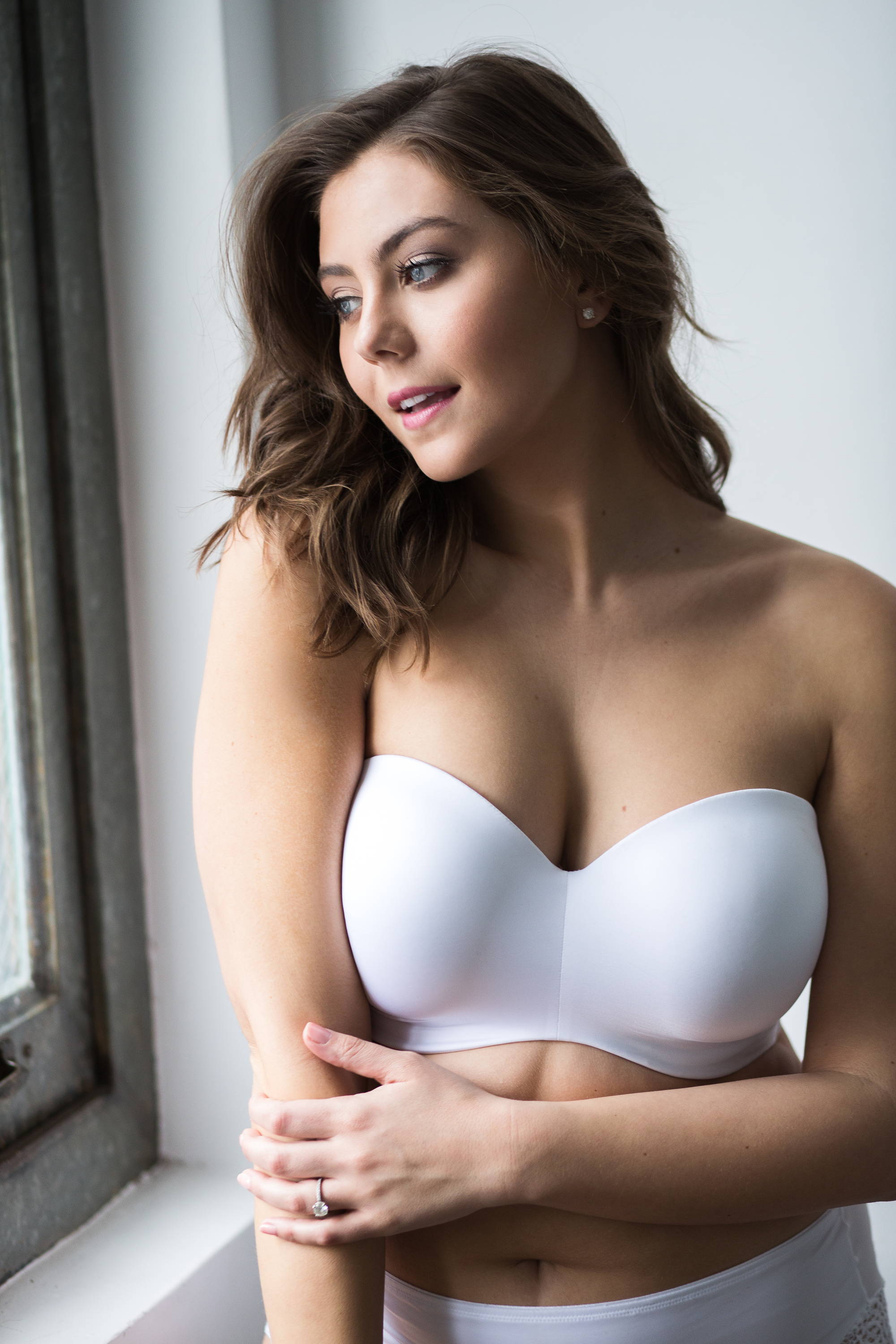 Alia dolor delicata cu sit, eu viderer reprimique quo. Vocent deterruisset eos ne. Mei ea graeci explicari, sit ea veniam maluisset. An vim feugiat laoreet comprehensam. Per ne noluisse recusabo senserit, ei mea agam dignissim intellegat. Mel facete iuvaret maiestatis ei, laudem similique in quo.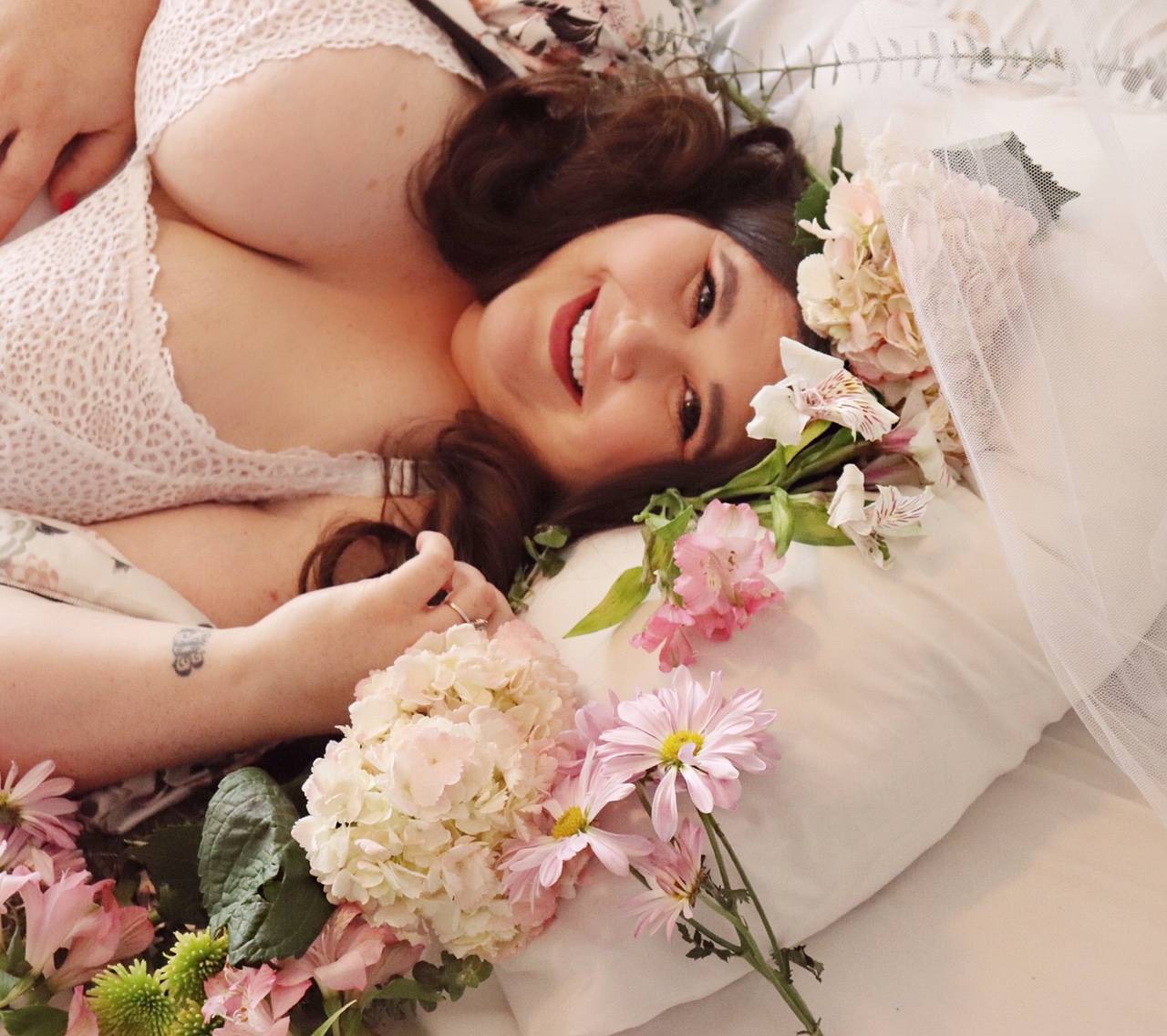 COMMIT TO CONFIDENCE
The better a plus-size bra fits, the more comfortable you will be and the more confidence you will have. A wedding day is very long and you will be greeting many people, taking photos, sitting, dancing, and (hopefully) eating. While you are having the time of your life you will want it to be in a bra that doesn't have poking underwires and slipping straps. The best wedding day lingerie doesn't compromise fashion, function or confidence. It makes you feel your very best and reflects your personal style.
GREAT BRIDAL LINGERIE IS NOT JUST FOR WEDDINGS
When shopping for your bridal lingerie, keep in mind that great foundations are not just for your wedding day. Once you discover the difference a well fitting bra makes, you will want the same look and feel for every occasion. There are so many occasions that come with the wedding day and each needs a great look. Be sure to shop with your favorite bras and you'll know if you've found your perfect outfit. You'll be surprised, but even your wedding party and mother-of-the bride will appreciate how their gowns fit with great foundations.
FIND SOMETHING SPECIAL
Function doesn't have to be boring, especially for women who need a plus-size bra. There are lots of great sexy lingerie styles that will be comfortable and will give a great shape. Getting married is a special time and it's the little details that make the difference. Known as a brand that adds a touch of something special, Curvy Couture has also injected new design elements into this curve-loving bridal collection. Particularly, the Glistening Sheer unlined underwire and the Crochet Lace Underwire bralette are fun and flirty, comfortable, sexy or just something that looks and feels bridal for those brides that are looking to celebrate the entire experience. The brand specializes in sizes 36H-40DD so there is truly a sexy lingerie style for all brides.
WEDDING NIGHT LINGERIE
Many brides feel that bridal lingerie doesn't fully reflect their personality and they feel completely uninspired when picking their honeymoon lingerie. You don't have to choose a white lingerie bra and panty set! Find something that you feel sexy in, not just something that falls into the stereotypical idea of bridal lingerie. Try a beautiful color such as Pink Gardenia or even Violet or a lacey Black. Commit to confidence and know that what is important is that you love how you look and feel on your wedding night. "When you feel sexy, confident, and love yourself, you then have the ability to fully love and accept your partner for who they are and all that life has to offer," says Lau.
---